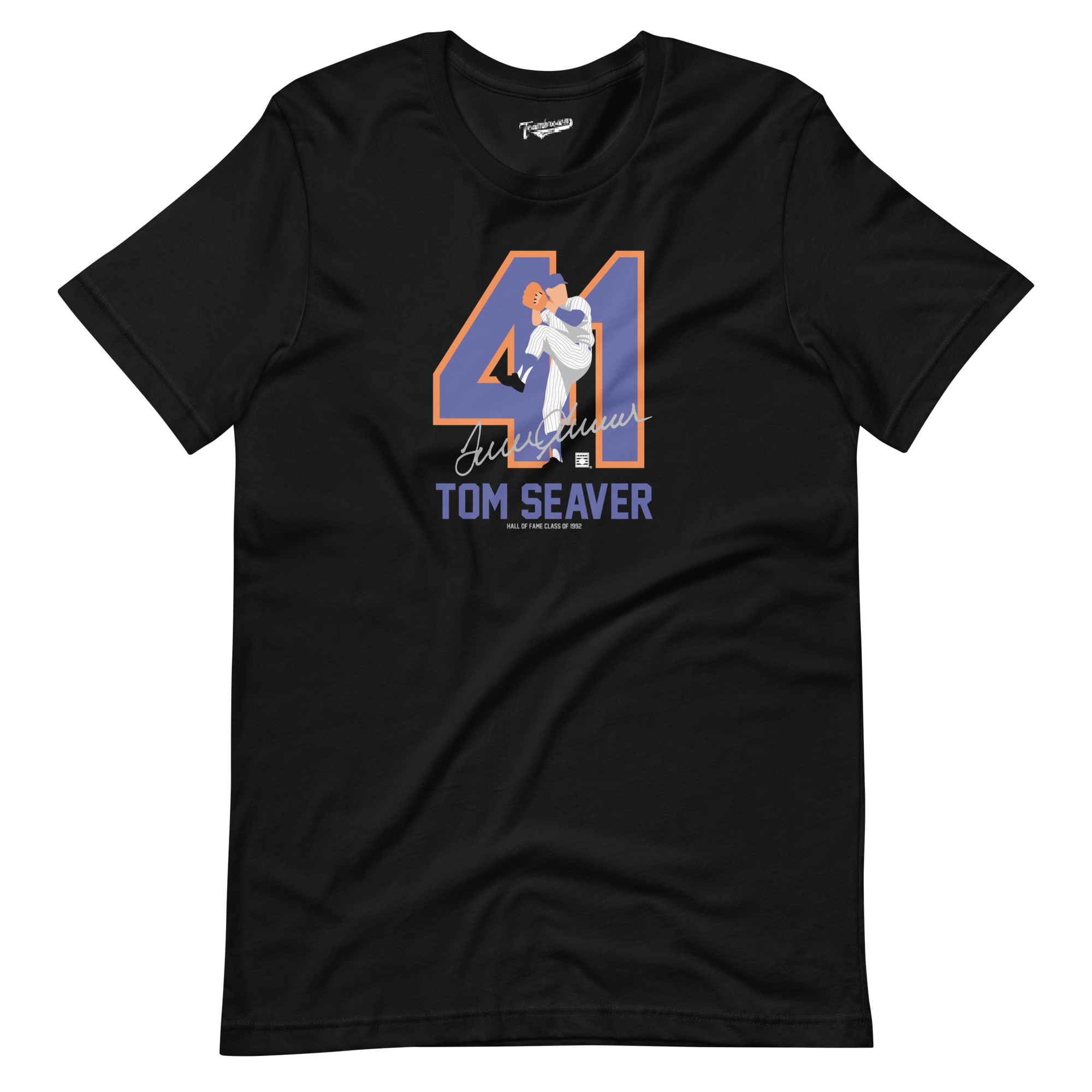 Baseball Hall of Fame Members - Tom Seaver - Silhouette - Unisex T-Shirt
Tom Seaver
Perhaps no single player is identified more with one team than Tom Seaver is with the New York Mets. Simply put, Seaver helped turn baseball's lovable losers into champions.
Hall of Fame outfielder and Mets broadcaster Ralph Kiner recalled: "Tom Seaver was the driving force behind the players, always pushing the team to be better than they were, never letting them settle."
In 1969, the Mets captured their first World Series championship behind the powerful right arm of "Tom Terrific." Seaver took home his first National League Cy Young Award that year, leading the major leagues in victories with 25, which accounted for one quarter of the Mets' wins.
Teammate Cleon Jones said: "Tom does everything well. He's the kind of man you'd want your kids to grow up to be like. Tom's a studious player, devoted to his profession, a loyal cat, trustworthy – everything a Boy Scout's supposed to be. In fact, we call him 'Boy Scout.'"
Seaver signed with the Mets in 1966 following a lottery that resulted from an eligibility mix-up at the University of Southern California. One year later, Seaver was in the big leagues – and captured the 1967 National League Rookie of the Year Award after going 16-13 with a 2.76 ERA.
Following his Cy Young Award-winning season in 1969, Seaver won NL earned-run average titles in three of the next four seasons, capturing his second Cy Young Award in 1973 while leading the Mets to the NL pennant.
In 1970, Seaver tied a major league record, striking out 19 San Diego Padres in a game that included a record 10 consecutive strikeouts to end the game. In 1975, Seaver won his third NL Cy Young Award.
From 1967-1977, "The Franchise" was selected to 10 All-Star teams, lead the league in strikeouts five times, put together five 20 win seasons and threw five one-hitters and won three Cy Young Awards. He was traded to the Reds on June 15, 1977, finishing third in the Cy Young Award voting that year with a record of 21-6 and a big league-leading seven shutouts.
Hall of Famer Sparky Anderson, who managed Seaver with the Cincinnati Reds in 1977 and '78, recalled: "My idea of managing is giving the ball to Tom Seaver and sitting down and watching him work."
After several near-misses during his career, Seaver no-hit the Cardinals in 1978 – and in 1981 became the fifth player in history to record 3,000 strikeouts. He returned to the Mets for the 1983 season, then won a total of 31 games for the White Sox in 1984 and 1985 before officially retiring during the 1987 season.
A 12-time All-Star, Seaver finished his career with a record of 311-205 with a 2.86 ERA and 3,640 strikeouts.
Seaver was elected to the Hall of Fame in 1992. He passed away on Aug. 31, 2020.
Courtesy of Baseball Hall of Fame - Tom Seaver member bio

Officially Licensed by the National Baseball Hall of Fame and Museum®