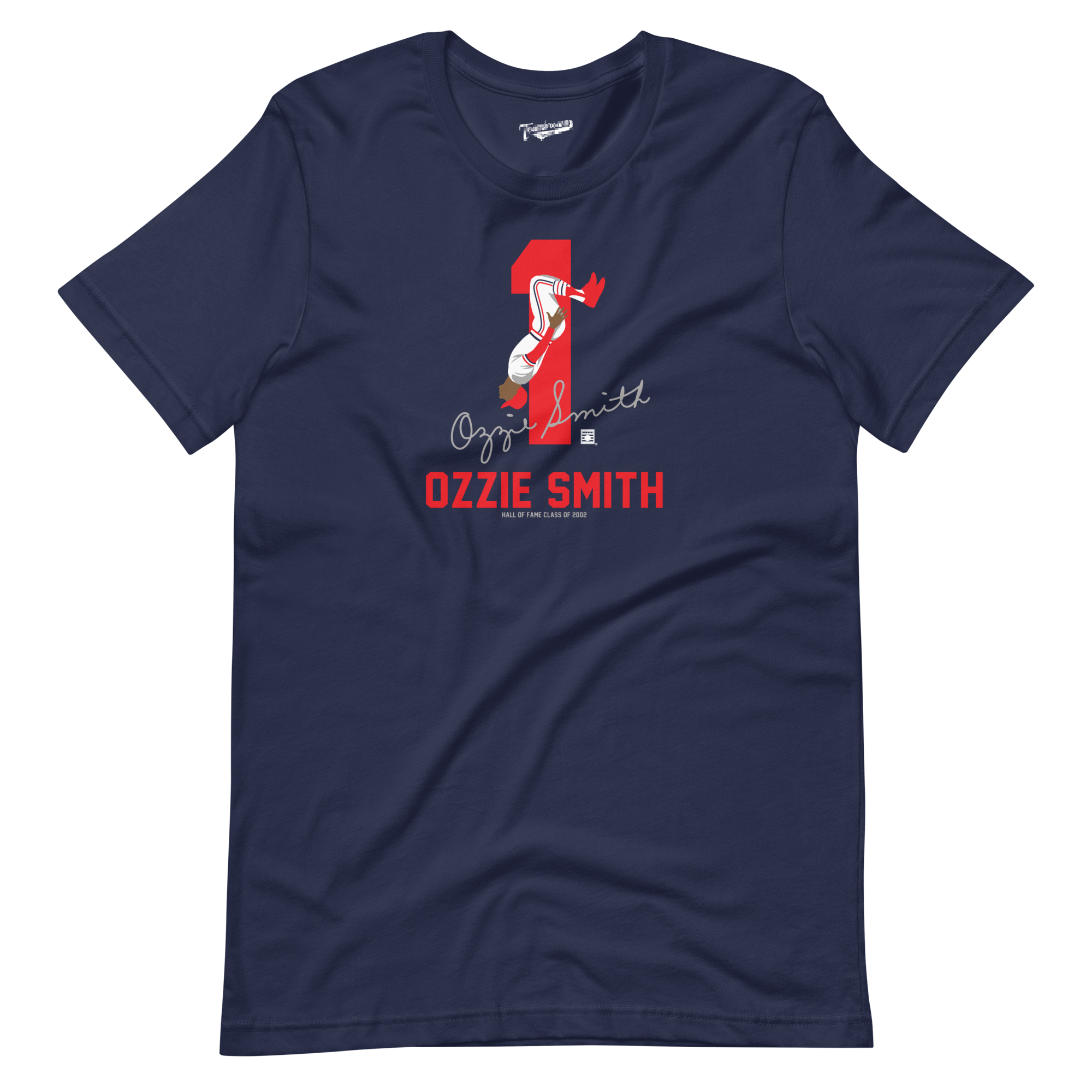 Baseball Hall of Fame Members - Ozzie Smith - Silhouette - Unisex T-Shirt
Ozzie Smith
Known as "The Wizard of Oz," Ozzie Smith combined athletic ability with acrobatic skill to become one of the greatest defensive shortstops of all time.
The 13-time Gold Glove Award winner redefined the position in his nearly two decades of work with the San Diego Padres and St. Louis Cardinals, setting the all-time record for assists by a shortstop.
Smith's talent was evident to those who saw him come up with the Padres in the late 1970s. "Ozzie is the best young infielder I've ever seen," said San Diego manager Roger Craig at the time. "Very soon he's going to be one of the best shortstops in baseball, if not the best."
Hall of Fame pitcher Gaylord Perry added: "I saw him as a rookie in San Diego. I was always hoping they would hit the ball his way because I knew then that my trouble was over."
Smith's fame increased after his trade to St. Louis following in 1981 season, where he helped the team to three National League pennants and the 1982 World Series title.
While not known for his bat, Smith's offense continued to improve while with the Cardinals. In 1985, he hit a career-high (to that point) .276 and helped the Cardinals win their second pennant since his arrival. In the NLCS against the Los Angeles Dodgers, with the series tied at two games apiece, Smith faced Tom Niedenfuer with one out in the bottom of the ninth of Game 5 and hit his first career homer batting left-handed (in 3,009 at-bats) to win the game. Smith went on to bat .435 in the Cardinals' six-game triumph and won the NLCS Most Valuable Player Award.
For his career, Smith hit .262 with 2,460 hits, 402 doubles and 1,257 runs scored. The switch-hitter also stole 580 bases and won a Silver Slugger Award in 1987 – the same year he was the runner-up in the NL Most Valuable Player Award voting.
Smith retired in 1996, the same year the Cardinals retired his number, and in his 19 seasons was named to 15 All-Star teams. He led NL shortstops in fielding percentage eight times, assists eight times and double plays five times. Each of his 2,511 games in the field came at shortstop.
"He made more diving plays than I've ever seen," said Hall of Famer Whitey Herzog, who managed Smith with the Cardinals. "I don't see how it was possible to play (shortstop) any better than Ozzie played it."
Smith was elected to the Hall of Fame in 2002.
Courtesy of Baseball Hall of Fame - Ozzie Smith member bio

Officially Licensed by the National Baseball Hall of Fame and Museum®