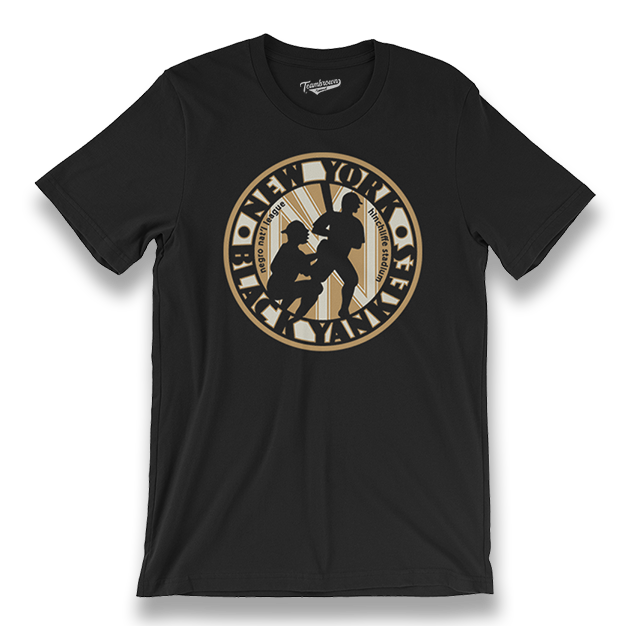 NNL - New York Black Yankees - Unisex T-Shirt
This collection celebrates the NNL - Negro National League which played from 1920-1931, and the great teams and Stadiums of the era.
From Gary Cieradkowski (the artist): IF YOU'RE ANYTHING LIKE ME, then you are very discerning about the graphics on the t-shirts you wear. With that in mind, I am proud to have teamed up with Teambrown Apparel to produce a line of t-shirts paying homage to the great Negro League teams of the 1930's and 40's. Using the iconic graphic style of the pre-World War II era, I created a different design for each of the six Negro National League teams.
Wearing the same pinstriped uniforms as their white counterparts, the New York Black Yankees were a fixture of the East Coast Blackball scene from 1931 to 1948. One of the Black Yanks' owners was Bill "Bojangles" Robinson, the tap dancing genius and Shirley Temple's co-star in many Hollywood classics. A die-hard baseball fan, Robinson would sometimes jump up on the Black Yankees dugout roof and break out in an impromptu tap dance. While they often hosted sell-out double-headers at Yankee Stadium in the Bronx, the Black Yankees called Paterson, New Jersey's Hinchliffe Stadium their home throughout most of their existence.
Officially Licensed by the Negro Leagues Baseball Museum, Kansas City, Mo.​​​​​​​