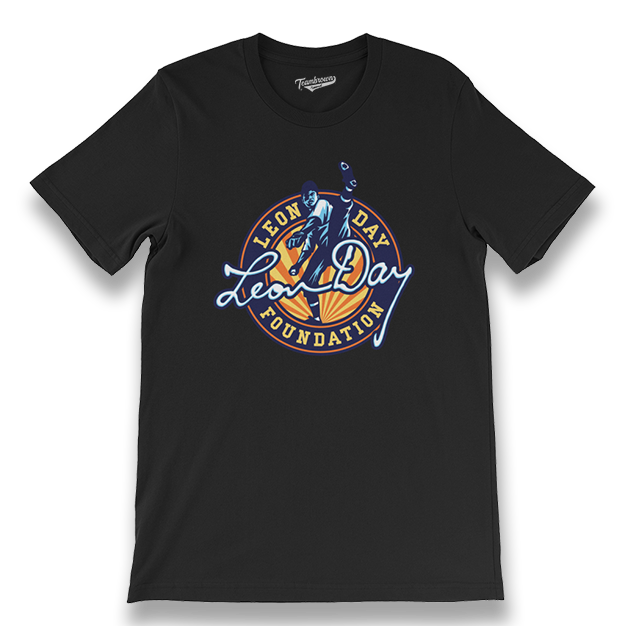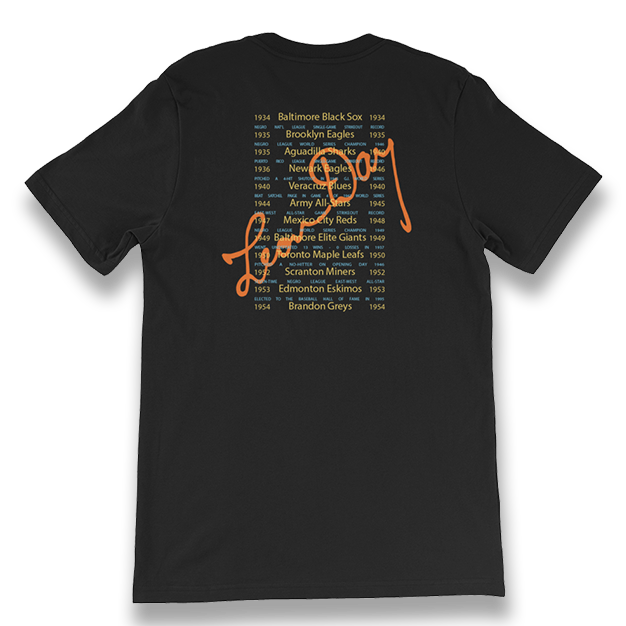 Leon Day Foundation - Unisex T-Shirt
Proceeds from every item sold from "Leon Day" items shall be donated to The Leon Day Foundation. 

From Gary Joseph Cieradkowski (the artist): ​​​​​​​BACK IN 1991 I was interviewed for my work on Oriole Park at Camden Yards by TV host Dr. Bob Hieronymus. Dr. Bob and I shared a deep interest in the Negro Leagues and he graciously introduced me to an old ball player named Leon Day. I spent quite a few hours in his baseball room where he would tell me about all the great players he once shared the field with, yet never revealing any details of his own career. It was only after some newspaper research that I realized this modest and kindly old man I called a friend was in fact blackball's most complete ball player!
Leon Day got his start in his hometown of Baltimore as one of Laymon Yokely's protégés. He had a screaming fastball and a sharp curve delivered from the stretch which made him the ace of the Newark Eagles by the age of 19. In 1937 he won 13 league games without a defeat and by the time he entered the Army in 1943 his Negro National League record stood at a staggering 45-8.The Newark Eagles boasted five future Hall of Famers yet Leon Day was considered the team's best clutch hitter. On the days he wasn't on the mound he could be found in the outfield to take advantage of his arm or at any of the infield positions. He was known as a fast base runner and teammates all said he had the best singing voice in the league; Leon Day was as complete a ballplayer as you'd want.While in the Army he pitched his team to the 1945 European Championship and returned home in time to pitch a no-hitter on the first day of the 1946 season. Day went 13-4 and led Newark to the Negro World Championship. He played minor league ball before retiring in 1955. The 7-time All-Star holds the single-game strikeout record for the Negro National League, Puerto Rican Winter League and the East-West All-Star Game.
My old friend Leon passed away on March 14, 1995, just four days after being informed he'd been elected to the Baseball Hall of Fame. Four months later, Leon Day's wife, Geraldine Day spoke on her late husband's behalf at the 1995 Hall of Fame induction ceremony in Cooperstown – "We will carry your spirit" – and carry on she did! In 1997 Leon Day Park opened, and four years later Geraldine Day founded The Leon Day Foundation, Inc. "To promote self-awareness and lifelong learning for all ages through organized sports, resources, and educational programs; while preserving the legacies of Leon Day and the Negro League by giving recognition and exposure to a group of talented baseball players that were forgotten and never acknowledged."Today, the Leon Day Foundation is committed to creating opportunities for inner-city kids to engage in baseball in Baltimore.
Through signature programs such as the Leon Day Youth League, Sandlot Saturdays, Baseball Tuesdays, the Leon Day Classic, the Leon Day Festival, the Leon Day 10th Man Award, and most recently, a youth league team in the James Mosher Baseball Youth League, the foundation strives to positively impact the lives of children and their families in Baltimore city.I designed this shirt as a tribute not only to my old friend Leon's Hall of Fame career, but also to the hundreds of kids he inspired in the years since his passing. 
Officially Licensed by Gary Joseph Cieradkowski.