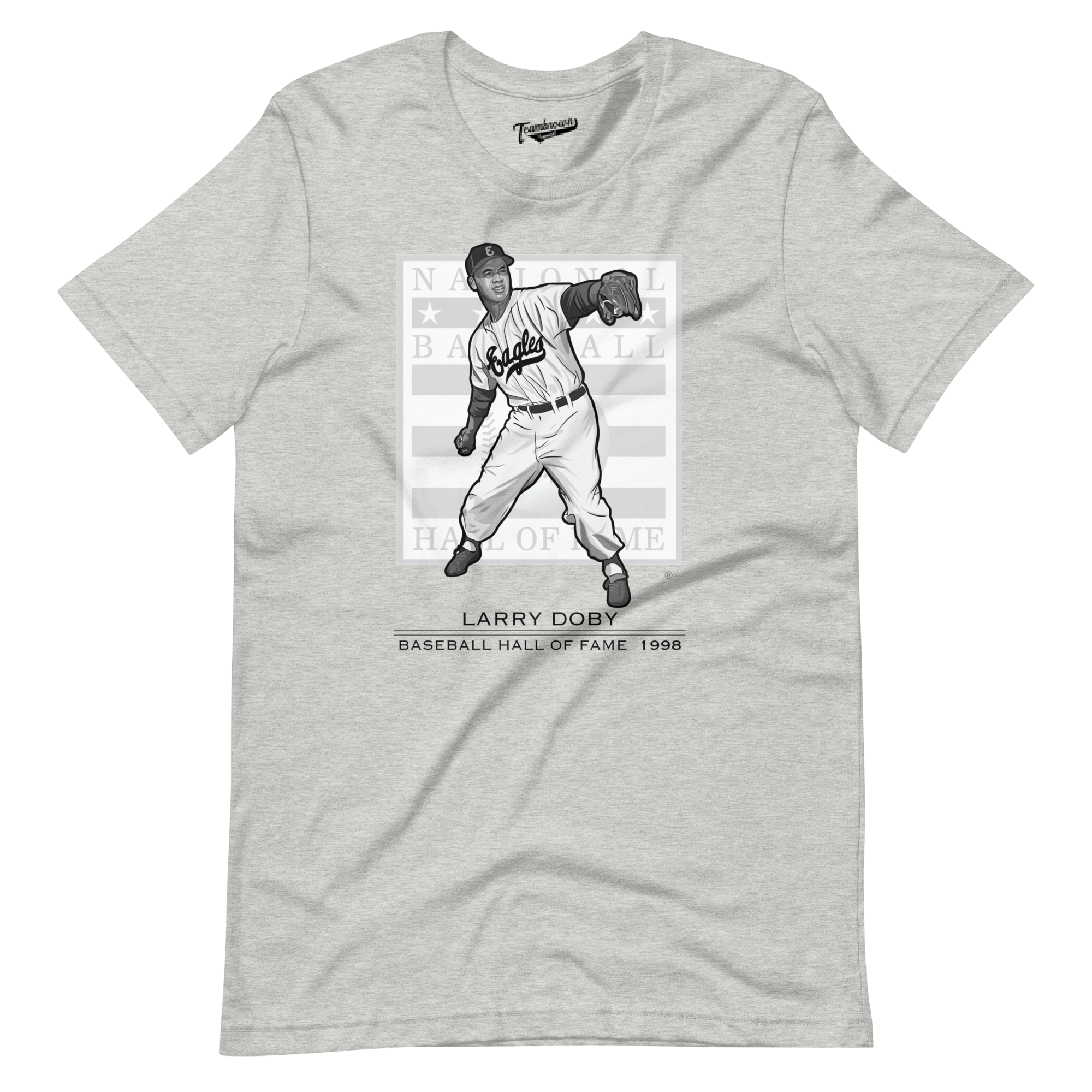 Baseball Hall of Fame Members - Larry Doby - Unisex T-Shirt
Larry Doby
In his Negro Leagues uniform - Newark Eagles.
Perhaps no one is more remembered for being second than Larry Doby.
He was the second African-American to play in the National League or American League – but the first in the AL – in the modern era after Jackie Robinson. He was the second Black manager of an AL or NL club after Frank Robinson.
He may have been second in those two regards, but Larry Doby was so much more.
Doby began his baseball career as a star infielder for the Newark Eagles of the Negro National League and was also the first African-American player to play professional basketball in the ABL, a precursor to the NBA. After taking time out from professional sports to serve in the United States Navy during WWII, Doby returned to the NNL and led the Eagles to the Negro Leagues championship in 1946.
In 1947, only a few months after Jackie Robinson's major league debut, Cleveland Indians owner Bill Veeck signed Doby, who became the first Black player in the American League. Doby suffered the same indignities as Jackie Robinson, but his struggles did not get the media attention Robinson's received. Whether it was being forced to stay in separate hotels or eat in separate restaurants on the road, or not being accepted by some of his teammates, Doby persevered.
Teammate Mel Harder recalled: "It may have (bothered Doby), but he never complained to the players; when he joined, naturally it was a tough time. But after he was with us a while, he got along pretty good."
His first major league manager Lou Boudreau said: "Larry proved to them (the other players) that he was a major leaguer in handling himself in more ways than one – on the field and off the field."
In 1948, his first full campaign in the AL, Doby became the first African-American to hit a home run in World Series play. In 1952, the slugging center fielder became the first African-American to lead either league in home runs.
During his time in the big leagues, Doby was a seven time All-Star and put together five-100 RBI and eight-20 home run seasons. In 1978, the same man who gave him his shot as a player in the major leagues in 1947, Bill Veeck, hired him to manage his Chicago White Sox.
Upon his passing on June 18, 2003, President George W. Bush said: "Larry Doby was a good and honorable man, and a tremendous athlete and manager. He had a profound influence on the game of baseball."
Doby was elected to the Hall of Fame in 1998.
Courtesy of Larry Doby member bio

Officially Licensed by the National Baseball Hall of Fame and Museum®
Officially Licensed by the Negro Leagues Baseball Museum, Kansas City, Mo.