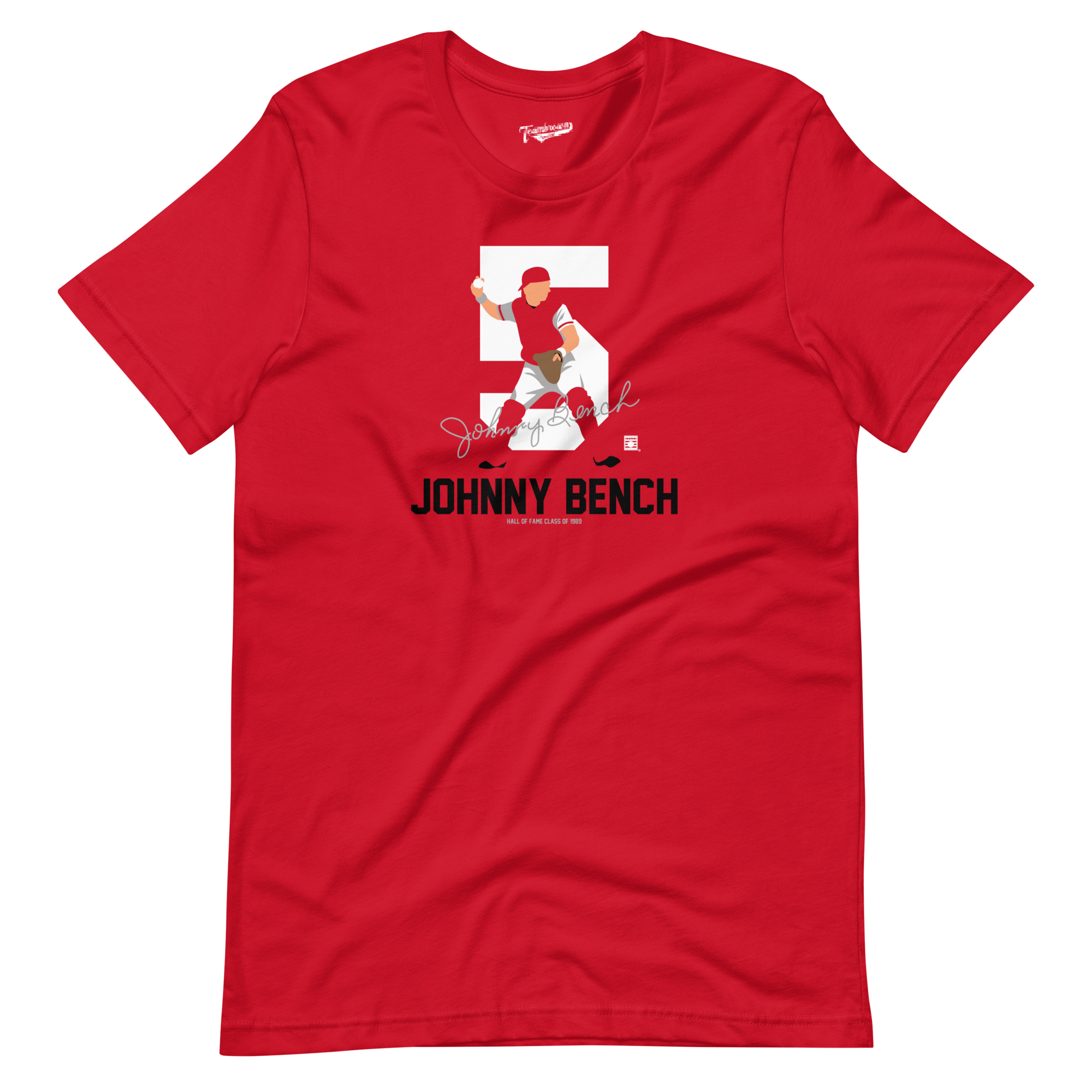 Baseball Hall of Fame Members - Johnny Bench - Silhouette - Unisex T-Shirt
Johnny Bench
"The way I see it, the first thing you want in a catcher is the ability to handle the pitchers. Then you want defensive skill, and, of course, the good arm. Last of all, if he can hit with power, well, then you've got a Johnny Bench." – Frank Cashen.
Johnny Bench, raised in the tiny town of Binger, Okla., was taught catching at an early age by his father. Making his major league debut in 1967 at the age of 19, he would go on to play his entire 17-year big league career (1967-83) with the Reds, rewriting the standards for catchers.
As the leader of Cincinnati's Big Red Machine of the 1970s, in which he helped the franchise to four National League pennants and two World Series titles, the rugged and durable Bench was a 10-time Gold Glove Award winner as the result of his skilled handling of pitchers, unparalleled defensive skills and a lightning quick throwing arm that would intimidate would-be base runners. He led the NL in caught stealing percentage three times and putouts twice.
Bench also provided a potent bat, hitting 389 home runs and leading the league in RBI three times and homers twice. Highly honored during his career, Bench won the 1968 NL Rookie of the Year, was a two-time NL MVP (1970 and 1972) and 14-time All-Star. He won the 1976 World Series MVP Award as the Reds completed their back-to-back run of titles.
"I don't want to embarrass any other catchers by comparing him with Johnny Bench," said Reds manager Sparky Anderson.
Bench was elected to the Hall of Fame in 1989.
Courtesy of Baseball Hall of Fame - Johnny Bench member bio

Officially Licensed by the National Baseball Hall of Fame and Museum®