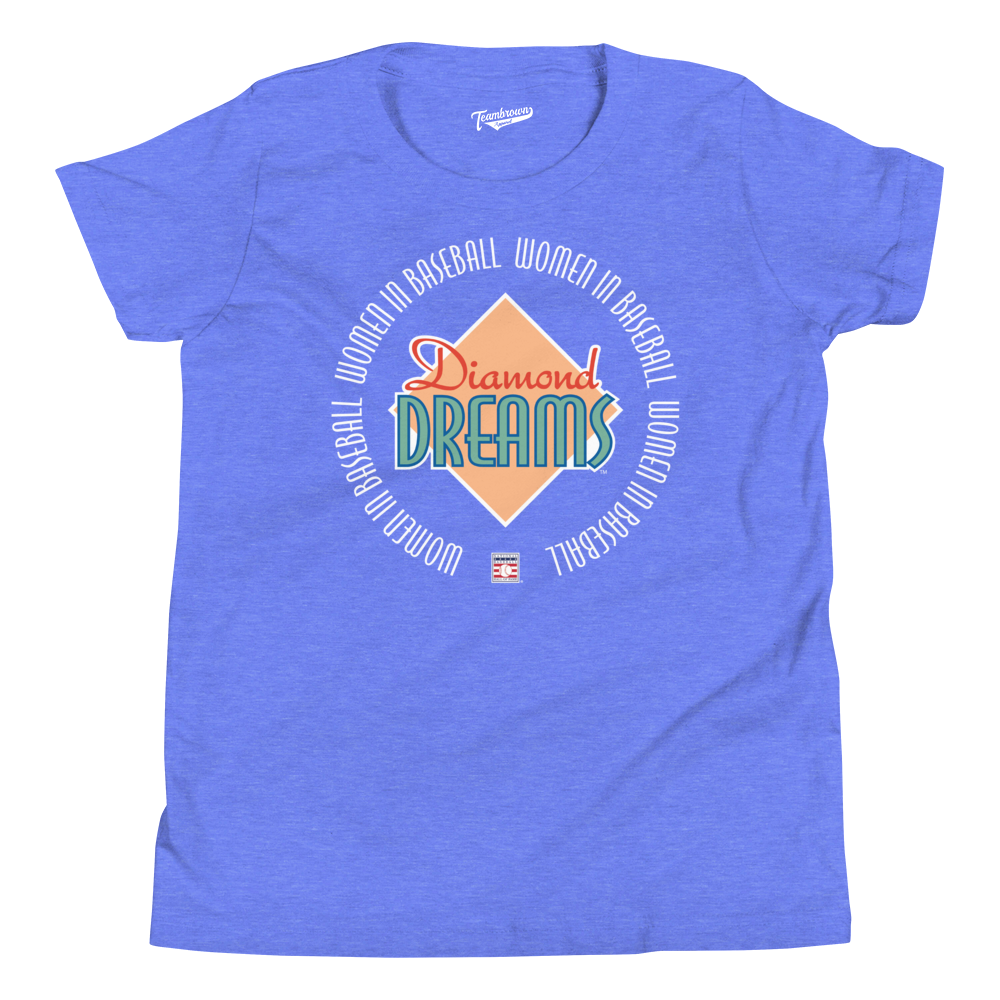 Diamond Dreams - Women In Baseball - Kids T-Shirt
Color:
Heather Columbia Blue
Based on the popular exhibit from the Baseball Hall of Fame and Museum.
This popular exhibit traces women's roles in the game from 19th-century ballclubs to their present-day involvement – on the field and in baseball's front offices and broadcast booths.The story is broken into three segments. In addition to the All-American Girls Professional Baseball League (1943-1954), "On the Field" covers the history of women ballplayers from the mid-19th century to today. "In the Office" highlights the women who ran ballclubs. "Off the Field" features women employed in baseball and the cultural impact of the 1992 film A League of Their Own. The exhibit includes original uniforms and equipment, photographs, text and multimedia, and features an interview with Penny Marshall, the director of A League of Their Own. Other notable pieces include a cap worn by groundbreaking female umpire Pam Postema; a cap from Maria Pepe of Hoboken, N.J., whose landmark Supreme Court case opened the door for girls to play in Little League; and a hardhat worn by urban planner Janet Marie Smith, who helped design Baltimore's groundbreaking Oriole Park at Camden Yards.
The National Baseball Hall of Fame and Museum is an independent, non-profit educational institution dedicated to fostering an appreciation of the historical development of baseball and its impact on our culture by collecting, preserving, exhibiting and interpreting its collections for a global audience as well as honoring those who have made outstanding contributions to our national pastime.
The Hall of Fame's mission is to preserve the sport's history, honor excellence within the game and make a connection between the generations of people who enjoy baseball.
A portion of the proceeds from each purchase helps support the non-profit mission to preserve baseball history, honor excellence within the game and make a connection between generations of baseball fans.
Officially Licensed by the National Baseball Hall of Fame and Museum®