Black History Month 2023 celebrates the great Hank Aaron, who for three magical months was a part of the Negro Leagues.
When the Indianapolis Clowns saw the then 17 year old Henry Aaron playing for the Mobile Black Bears they were impressed enough to offer him $200 per month to join their team.
The crosshanded hitting shortstop would join the team for the 1952 season. In three months, he would lead the league in hitting with a .467 batting average. He would also lad in runs, hits, doubles, home runs, rbi's and total bases.
Awards and Honors:
• National League Batting Title, 1956, 1959
• National League "Most Valuable Player," 1957
• World Series Champions (Milwaukee Braves), 1957
• Three Gold Glove Awards, 1958-1960
• 24 All Star Game Appearances
• National Baseball Hall of Fame Inductee, 1982

Career Records:
• 755 Home Runs
• 2,297 Runs Batted In
• 6,856 Total Bases
• 1,477 Extra Base Hits
• 12,364 Times At Bat
In an article from the Undefeated, from the foreword of the book Comeback Season: My Unlikely Story of Friendship with the Greatest Living Negro League Baseball Players, by Cam Perron with Nick Chiles,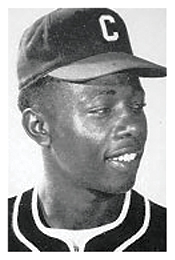 Hank would say in his own words (in part):
"Negro League baseball has been so important to my life. I won't ever forget the way I felt when I walked on the field for the Clowns — like I was already in the major league. There was nothing else I wanted to be doing. And the Negro Leagues gave me the opportunity to go on to play Major League Baseball. Those months I spent on the Clowns helped me tremendously — not only teaching me how to play the game itself but also showing me that I belonged at that level. I'll never forget that."
#HistoryInYourSize